The Seaford Chapter of the DAR is the only Delaware chapter bearing a female name. The founding members of the chapter selected her name since seven of them were in her ancestral line.
Born August 20, 1756, to John Vining and wife, Phoebe Wynkoop, Mary Vining was known as the "Belle of Delaware," perhaps one of the most beautiful women in the colonies during the time of the Revolutionary War. Her wit and charm won her notoriety throughout the colonies and abroad.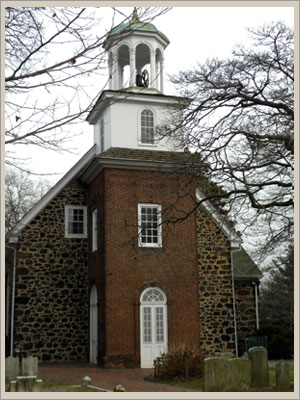 Her cousin, Caesar Rodney, influenced her to support the revolt from England and she frequently served as hostess for Rodney in Philadelphia. While entertaining British officers, she would extract important military information from them and relay it to her brother who was in the Continental Army.
Legend has it that during this time she met and fell in love with the Revolutionary War hero, General Anthony Wayne; also known as "Mad Anthony Wayne." Unfortunately, Wayne already had a wife and family in Philadelphia and did not ask for Miss Vining's hand in marriage until after his wife died.
The wedding was not to be. General Wayne died on his final military mission December 15, 1796. Mary Vining never recovered. She died in 1821 and is said to have been buried in an unmarked grave in Old Swedes Churchyard (Wilmington, Delaware).1
Photo (above): Old Swedes Churchyard, Wilmington, Delaware
Mary Vining Chapter, NSDAR, Seaford, Delaware
Organized April 6, 1940
Mrs. Mary Lord Hudson, Regent
ORIGINAL CHAPTER OFFICERS
Regent – Mrs. Mary Lord Hudson
Vice Regent – Mrs. A.H. Lord
Recording Secretary – Mrs. Sam Stein
Corresponding Secretary – Mrs. T.S. Purse
Treasurer – Mrs. Norman Hearn
Registrar – Mrs. Susie Farmer
Librarian – Miss Elizabeth Elliott
Historian – Miss Aurelia B. Cate
READ MORE…
Mary Vining, The Belle of Delaware — The Sunday Morning Star (Part II of a Wilmington Delaware Newspaper Series), March 20, 1949
---
1 Based on Wright Robinson's article in The Leader, March 23, 1988.